Eyetennis: Advertise on this site
eyetennis is one of the fastest growing tennis news websites in the United Kingdom.
We pride ourselves in providing the latest hot tennis news and gossip to thousands of visitors a day.
Advertisement Opportunities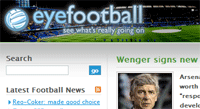 Our website is attracting thousands of tennis fans a day. We are offering static link and graphical image advertising available on a per-month basis.
Direct Targeting
Our website can potentially hit a very targeted segment and audience. The combination of this focused target market and our low advertisement prices may result in a very cost effective exposure of your promoted products, services or image.
Find out more information
Interested in advertising here? contact form.